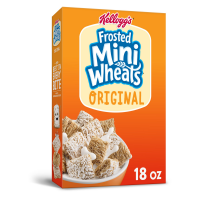 Favorites
Description
Lightly sweetened whole grain wheat cereal.Best to you! Meets American Heart Association food criteria for saturated fat, cholesterol and whole grains for healthy people over age 2. Diets rich in whole grain foods and other plant foods, and low in saturated fat and cholesterol, may help reduce the risk of heart disease.
Ingredients
Whole Grain Wheat, Sugar, High Fructose Corn Syrup, Gelatin. Vitamins and Minerals: Reduced Iron, Niacinamide, Zinc Oxide, Pyridoxine Hydrochloride (Vitamin B6), Riboflavin (Vitamin B2), Thiamin Hydrochloride (Vitamin B1), Folic Acid and Vitamin B12. To Maintain Quality, BHT Has Been Added to the Packaging.
Product Features
Healthy beginnings. Make a delicious decision! Just one bowl of any Kellogg's Frosted Mini-Wheats provides at least 85% of your daily whole-grain needs. Start your day with a delicious bowl of Kellogg's cereal and you'll benefit from its nutrients. That's right, research shows that breakfast is linked to having a healthy body weight. Breakfast eaters have healthier body weights than those who skip breakfast. In fact, studies show eating cereal as part of a nutritious breakfast is important for both children and adults to promote healthy weight.