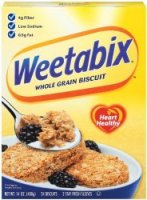 Favorites
Description
A cereal as unique as you are. You are one-of-a-kind; your breakfast should be too. The English have been making Weetabix their own for years - now it's your turn. Weetabix toasted biscuits are made from tender layers of organic whole wheat with natural bran fiber and wheat germ, providing a delicious breakfast made from only the finest ingredients. Each biscuit has a mere 60 calories. Now is your chance to become a healthy breakfast connoisseur with this versatile cereal. 4 g fiber. 4 g protein. 1 g fat. Heart healthy. A good source of 8 vitamins & minerals with zero trans fat.
Ingredients
Organic Whole Wheat, Organic Dehydrated Cane Juice, Organic Barley Malt Extract, Sea Salt. Vitamin Blend: Iron (Ferric Orthophosphate), Vitamin C (Sodium Ascorbate), Niacin (Niacinamide), Zinc (Zinc Oxide), Thiamin (Thiamin Mononitrate), Vitamin B6 (Pyridoxine Hydrochloride), Riboflavin, Folic Acid.
Product Features
Customize your morning, grab a box, a bowl, get creative and let the milk flow. Mix in some fruit, spoon on some yogurt, or spread on some jam. Heat it up, or spin it into a smoothie - any way you can dream up. Make breakfast your own again. A healthy start to your day: Weetabix cereals provide pure heart healthy nutrition. Experts agree that a diet rich in fruits, vegetables and whole grain, and low in fat, saturated fat and cholesterol, may reduce your risk. Weetabix organic whole grain cereals are an excellent part of a heart healthy diet. Start your day the healthy way.