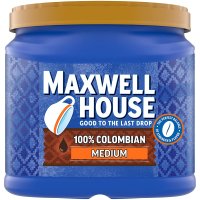 Favorites
Description
100% arabica beans. Robust & lively. 100% Colombian is an intense, deep, robust coffee directly from Colombia, full of flavor without bitterness. It's made from only 100% arabica beans, considered the world's, finest coffee beans, for their rich aroma and robust taste. Give it a try and you'll taste the difference that dedication and quality can bring to your Maxwell House coffee Good just got Great! Once foil is removed, cap will be easier to lift off.
Ingredients
100% Arabica Coffee.
Product Features
Brewing: 1 tbsp Maxwell House Coffee; 1 serving. 1/2 cup (8 tbsp) Maxwell House Coffee; 10 servings. 1 serving of water is 6 fl oz (3/4 cup). 240 to 270 suggested strength servings. We recommend using the chart above and fresh, cold water.